Agricultural districts in the Italian regions: looking toward 2020
Agricultural and Food Economics
2015
3:1
Received: 15 May 2014
Accepted: 19 November 2014
Published: 21 January 2015
Abstract
Agricultural, quality agro-food, supply-chain and rural districts were introduced by Italian law in 2001. With reference to European structural policies, especially rural development policy, and to the districts' originality and relationship to the LEADER method and programmes, we wonder whether they can still form a useful part of the new programming period 2014-2020. The question is analysed in the wider context of international literature on socio-economic and economic policy, so as to stimulate broader interest, with a view to the future. A survey on national scale is presented, limited to the districts legally recognised by the Regions. A detailed historical reconstruction is given, offering a 'reconstructive reading' through which we clarify the actual nature of these districts, including their connections to clusters and industrial districts. We also discuss how to better link the theoretical and the legal frameworks. And we examine the connection between the basic economic mechanisms of the district theory and how the Regions have implemented them in reality. To do this, we summarised the overall conceptual framework into a few basic components for our desk research. This has led to development of a methodological definition of districts in agriculture.
Finally we give a concise analysis of the main outlines of the structural policies relating to this essential notion of 'district', in order to reach some conclusions of general validity.
Keywords
Agricultural
Quality agro-food
Supply-chain and rural districts
Industrial districts
Cluster
Business network
LEADER method
Rural governance and multi-level governance
Rural development policy
European structural and investment funds
Community-led local development
Italian Regions
Background
The new approach for European structural policy for the period 2014–2020 gives the local scale a strategic role in implementing interventions in support of participatory local development. This is to be based upon multi-level governance (Committee of the Regions 2009) and expansion of the LEADER method, especially in order to implement community-led local development (CLLD) and multi-fund strategies (European Commission's Directorates General AGRI, EMPL, MARE and REGIO 2013, European Union 2013:357–359).
In Italy the Regionsa are responsible for implementing these policies through their own programming and for integrating them using other policy tools. Many Regions had already recognised agricultural districts under the Italian law of 2001b. that empowered them to identify Districts in Agriculturec. (DAs) in the form of rural or quality agro-food districts.
At the time of its introduction, that law aimed to boost agricultural modernisation, following the new deal promoted by Agenda 2000. Today, with the new programming cycle of European structural policies and common agricultural policy, the important question is, how useful are the DAs and how can they be inserted into the new regional programming framework in order to implement rural development programmes?
Despite many studies into regional experiences of DAsd., organic knowledge is still lacking about implementation of the law on a national level, which is still ongoing. Indeed, researching on a national scale has proved very complex for three reasons: i) DAs have become very different "things" in each regional interpretation, so it is difficult to make comparisons among them; ii) DAs are still an open chapter of economic and agricultural research, because of the particular theoretical framework that has been adopted in Italy; iii) the theoretical and legal frameworks are still not fully integrated (Musotti 2001b).
We have addressed these difficulties by reconstructing the legislative situation stratified over a twenty-year period – the 'reconstructive reading' according to Albisinni (2010) - and by using a fresh approach. Our research aims to create the conditions for comparing experiences which have arisen in concurrence with very different regulatory frameworks and political contexts. Our article also tries to recreate an updated geographical mapping of the phenomenon at national level and seeks to outline the main economic attributes assumed by DAs. On the basis of our findings we offer our initial thoughts on the potential and weaknesses of future use of DAs in the coming programming period 2014–2020.
Although this article focuses on Italian agricultural, quality agro-food, supply-chain and rural districts, the issue is placed in the context of international socio-economic literature on the subject. The research may thereby be of more general interest, firstly because clusters and industrial districts are widespread at global level in the agricultural sector and also because of the original approach used for analysing regional policies.
Some different instruments, similar to DAs even if not derived from a 'district' concept, exist in other European countries, as mentioned below.
Method
Reconstructing the conceptual framework from a historical, economic and legal standpoint was essential in order to correctly fix the baseline upon which to found a survey on a national scale.
The scope of the survey was limited to the DAs set up in those Regions with a law in force and desk research focused only on the DAs recognised by them.
The methodology is articulated in two phases. The first phase deals with the desk research into the DAs to define their main common features on a national scale, to show how the basic economic mechanisms of the notion of 'district' were designed by the Regions. The second phase deals with an analysis of the possible integrated role of the DAs in the coming programming period.
The desk research is sub-articled, referring to the different objectives: on one hand, to create an updated map of the recognised DAs, on the other hand, to carry out a critical analysis of the complex of regional laws to clarify the very notions of 'district' used by Regions. The latter objective aims to better highlight how the basic economic mechanisms are shaped by the regions and whether their functioning is effectively ensured. Final considerations on these outcomes guided us to the methodological approach, thanks to which a common notion of DA is proposed.
As information about DAs in Italy is not collected, nor immediately accessible, the data used to build Figure
1
came from the official regional sources of information and from examination of the main bibliography on the subject.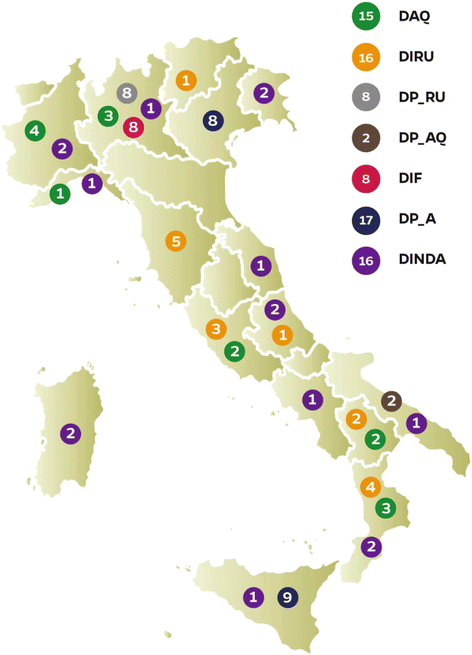 All regional regulation since 1990 was collated and critically examined in order to learn the essential elements for developing a scheme usable for conducting comparative analysis of such complex regulatory frameworks (Toccaceli 2012: Appendix). Following this, we were able to highlight the few key elements of each law: the juridical definition of district elaborated or used (derived from those offered by the national laws) and the typologies covered; the purposes attributed to the law; the requirements for identifying DAs and the procedures for their recognition; the organisational models developed to regulate the relations between the different actors involved in districtual dynamics; how projects are planned and financed; how the interventions are monitored.
Critical reflection has suggested considering the juridical issue of clarifying and reducing to a strict number the possible DA typologies, separately from the economic question.
In order to illustrate the connection between the basic economic mechanisms of the district notion and how the Regions have shaped and implemented this mechanism, the overall conceptual framework has been split into its basic components. These are the spatial and value chain dimension, which together represent the economic engine and network making and governance, which together represent the socio-economic engine. All components, of course, work together producing external economies and business environment and generating growth both for businesses and for the Regions where they are located. Finally, there is the political dimension. In this analysis, any external economies generated are the outcome –and even the aim - of a good regulation, rather than an element directly susceptible of regulation.
The spatial and the value chain dimensions in regional legislation are shaped through the choice of how to identify DAs, which relate to localisation and concentration of activities, as well as to their specialisation and interconnection in an organised value chain.
The manifold nature of institutions involved in the district process, as well their relationships, are again outlined through the governance requirements for identifying DAs, as well as in the rules that prefigure a large number of organisation patterns. It is worth underlining that mostly the local network is regulated, perhaps intending a too 'localistic' conception of the district, as better analysed below.
The political component, albeit often deemed external to the conceptual economic framework, in this kind of design is considered essential, because it is by law that life in the districts is regulated. So this component is considered in the sense of policy to be implemented on a local scale and is expressed through the norms for regulating what kind of DA project may be accepted and how they may be supported by public finance. From this analysis derived our methodological approach and the 'methodological' common definition of DAs, which is the milestone for some general reflections about the possible future use of DAs.
In the second phase, this more general concept of DAs is compared with a critical survey of the structural policies for 2014–2020, having regard to the extension of LEADER methodology to all European and Structural Investment (ESI) Fundsk., as well as to the increased attention paid by rural development policy to cooperation among farms, including in the form of networks and clusters.
Conclusions
This article aimed to create the conditions for carrying out research on national scale into DAs, starting from an unclear political, juridical and economic context. Thanks to the "reconstructive reading" of the legal bases as well as of the conceptual economic framework, and to desk research into DAs shaped by regional laws, we analysed how the basic components of the district conceptual framework were elaborated by the different Regions in such a way as to ensure the conditions for displaying the potential of the 'district process'. Even if we could not identify a specific pattern because of the different political approaches developed over time, a methodological approach was found that allowed us to outline the DAs' common points and their economic mechanisms and to collect them into a general definition.
On this basis, it was possible to develop a general reflection on the possible future use and utility of DAs, integrating them into the coming programming period. At the same time, some of these reflections on DAs may offer suggestions for other Countries where the same regulation is in force. So, the chances for the coming years are linked to different scenarios, whether the main purpose is either reinforcing weak and marginal rural systems or enhancing competitiveness of strategic supply chains. Two ways are possible:
assimilating DAs and LAGs indicated for developing and implementing multi-fund local strategies (CLLD). This depends on the success of DAs , i.e. whether DAs emerge as an example of stable organisation of the local economy and good governance or not.

including DAs in the 'bundle' of the co-operation measure : constituting new clusters and networks for the wide range of aims covered by the law; referring to supported implementation by groups of public and private partners of local development strategies.
These new opportunities would allow Regions to overcome some of the weaknesses highlighted and have systems in place for standardised, constant monitoring and evaluating in the medium term. Regions could also make use of the results of evaluation and monitoring, which would be available for the first time; to improve DA methods, just as the LEADER method was improved over time.
In conclusion we remark that this paper refers to the findings of the first survey of DAs, developed on national scale. Although it contributes towards classifying some early points, many questions remain open for further research.
Endnotes
a'Region' includes also the autonomous Provinces of Trento and Bolzano, which can legislate just like a Region.
bLegislative decree 18 May 2001 n. 228 « Orientation and modernization of the agricultural sector in accordance with Article 7 of Law 57 of March 5, 2001». Published on G.U. n.137 of 15/6/2001 Ord. Suppl. n.149. Art.13 «Rural and quality agro-food districts». It is also named 'Orientation Law' in analogy with the French 'Loi d'orientation agricole'.
cIn the following "DA" is used for generically indicating each type of district in agriculture.
dA not exhaustive list of studies on regional case studies includes: Pacciani (2003), Regione and Agenzia Regionale Servizi Sviluppo Agricolo (1999); Saraceno (1992);Casati et al. (1999); Pacciani (2002b); Pacciani (2003); Belletti and Marescotti (2004); Conti (2005); Aimone (2006); Toccaceli (2006); CNEL (2007); Fazio and Ricciardi (2008); Gulisano et al. (2008); Hoffmann (2008); Marangon (2008a); Marangon 2008b); Baldi and Casati (2009); Belletti and Marescotti (2010); Contò et al. (2010); Petrovich and Manzoni (2010); Caré et al. (2010); Contò and La Sala (2011); Garofoli (2011); Maizza (2010); Montresor et al. (2011); Tarangioli (2008); Tarangioli (2011); Spampinato and Timpanaro (2012).
eJust defined in Article 5 of the Treaty on European Union, both were issued since 1992 in a declaration of Edinburgh European Council-
fLEADER is the acronym for: Liason Entre Actions de Développement de l'Économie Rurale, that is "Links between actions for the development of the rural economy".
gThree EU schemes promote and protect names of quality agricultural products and foodstuffs: Protected Designation of Origin - PDO: covers agricultural products and foodstuffs which are produced, processed and prepared in a given geographical area using recognised know-how. Protected Geographical Indication - PGI: covers agricultural products and foodstuffs closely linked to the geographical area. At least one of the stages of production, processing or preparation takes place in the area. Traditional Speciality Guaranteed - TSG: highlights traditional character, either in the composition or means of production.
hTowards the end of the '80s the contributions (1987 and 1989) where Becattini systematizes the studies conducted on the industrial district of Prato and formulate the paradigm of the industrial district were published. At that time, some studies were carrying out on the contribution of agriculture to the determination of the pre-conditions for the development of an industrial district (Cecchi 1988; Cianferoni 1990; Cecchi et al. 1991).
iHere and below the symbol "*" indicates our translation from italian.
jSee note b.
k'ESI (European Structural and Investment) Funds' are the European Regional Development Fund (ERDF), the European Social Fund (ESF), the Cohesion Fund, the European Agricultural Fund for Rural Development (EAFRD) and the European Maritime and Fisheries Fund (EMFF), which operate under a common framework and work together in a coordinated way according to common provision established by Reg. (EU) 1303/2013.
lUpdated to April 2013.
mE.g. The LAG "Rural district Barbagia-Mandrolisai-gennargentu-Supramonte" titled its local development plan "toward the rural district" and the LAG "Shardana Lands" titled "Path toward a sustainable rural district and for quality of life".
nReg. (EU) 1303/2013 Article 2(19).
oReg. (UE) n. 1305/2013 Article 4.
pReg. (UE) n. 1305/2013 Article 5
qReg. (UE) 1305/2013, Article 35.
rReg. (UE) n. 1305/2013, Article 2(1,q) «"cluster" means a grouping of independent undertakings, including start-ups, small, medium and large undertakings as well as advisory bodies and/or research organisations - designed to stimulate economic/ innovative activity by promoting intensive interactions, the sharing of facilities and the exchange of knowledge and expertise, as well as contributing effectively to knowledge transfer, networking and information dissemination among the undertakings in the cluster».
sReg. (UE) n. 1305/2013, Article 35, (2,i).
tReg. (UE) n. 1305/2013, Article 35, (6).
Abbreviations
CAP:

Common Agricultural Policy
CLLD:

Community-Led Local Development
CSF:

Common Strategic Framework
DA:

District in Agriculture
DAQ:

Quality Agro-Food District
DIF:

Supply Chain District
DIND:

Industrial District
DINDA:

Agro-Industrial District
DIRU:

Rural District
DP:

Production District
DP_AQ:

Quality Agro-Food Production District
DP_RU:

Rural Production District
DRAQ:

Rural and Quality Agro-Food Districts
EAFRD:

European Agricultural Fund for Rural Development
ESI Funds:

European Structural and Investment Funds
LAG:

Local Action Group
LEADER:

Links between Actions for the Development of the Rural Economy
MID:

MARSHALLIAN INDUSTRIAL DISTRICT
Declarations
Acknowledgments
This paper is possible thanks to research promoted by the National Rural Network, coordinated by Mrs. Graziella Romito, within the Task Force "Integrated Planning" 2007-2013. Special thanks are due to Professor Alessandro Pacciani and Professor Ferdinando Albisinni for their precious observations during the research period which has resulted in this paper. I am very grateful to the two anonymous referees for their stimulating considerations. My thanks, too, to Julia Campbell Hamilton for proofreading the paper. Any errors remain, of course, my responsibility alone.
Authors' Affiliations
(1)
Department of Science for Economics and Business, University of Florence Via delle Pandette, ᅟ, Florence
Copyright
© Toccaceli; licensee Springer. 2015
This is an Open Access article distributed under the terms of the Creative Commons Attribution License (http://creativecommons.org/licenses/by/4.0), which permits unrestricted use, distribution, and reproduction in any medium, provided the original work is properly credited.